Sarah Outen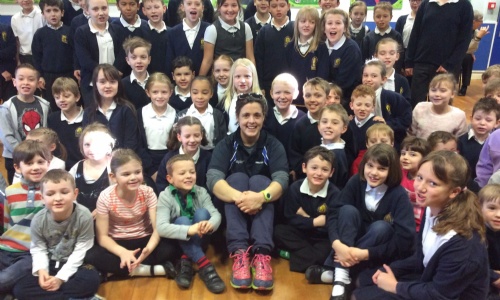 We were very lucky to have British adventurer Sarah Outen visit us. She made an truly incredible journey across the world using only human power; rowing, biking and kayaking around the northern hemisphere, inspiring children and fundraising for charities.
Sarah described how she overcame huge obstacles and endured extreme conditions in remote environments, often alone for months at a time. She told us how a typhoon on the North Pacific forced a mid Ocean rescue from her rowing boat in 2012. Sarah also had to re-trace her steps after a hurricane battered her boat on the Atlantic in summer 2015. She kayaked some of the most treacherous waterways in the world and cycled across North America during one of the harshest winters on record.
Sarah showed us some pictures of the wildlife she encountered on her journey, including bears along the coast of Canada and an elderly Sun Fish!
Finally, after 4 and a half years and over 25000 miles, Sarah is made it home. The final leg of the journey saw her cycle and kayak from Falmouth to London, paddling under Tower Bridge at midday on 3rd November to complete her journey.
Her book 'Dare to Do' about her expedition will be out in May 2016. You can find out more about Sarah's adventures on her website http://www.sarahouten.com/